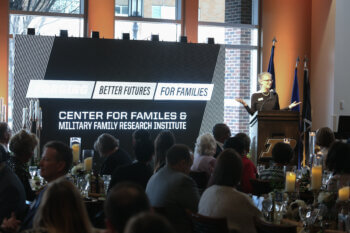 The Center for Families and the Military Family Research Institute at Purdue University held a joint anniversary celebration on April 1, marking 25 years for CFF and 20 for MFRI. The event, titled "Forging Better Futures for Families," attracted a capacity crowd of more than 120 to Spurgeon Club at Mackey Arena. Among the guests present were CFF founding donor Lorene Burkhart, several CFF founding advocates, members of the CFF and MFRI advisory councils, and faculty members, staff and donors affiliated with the centers.
Beginnings in the 1990s
The institutes' beginnings date back to the early 1990s, when Burkhart, a 1956 Purdue University alumna and Indianapolis media executive, pledged $1 million to establish the Center for Families as a catalyst linking family research, outreach and teaching. Burkhart's lead gift inspired 40 individuals and couples to contribute a minimum of $10,000 each to become Center for Families Advocates. These donors collectively committed an additional $1.275 million in outright gifts and pledges. With their support, the Center for Families (CFF) officially opened at Purdue in 1994.
A short time later — and a year before 9/11 and the global conflicts that followed — the Department of Defense tapped CFF to establish a separate research institute for studying military-connected families and sharing findings with policymakers and practitioners. Under the Office of Military Community and Family Policy, in 2000, the Military Family Research Institute (MFRI) was created.
Influence around the nation, world
Among the guest speakers at the gala was Oliver Wendt, a former Purdue University faculty member who currently is the associate professor and chair of cognitive and emotional disabilities at the University of Potsdam in Germany. Wendt reported how a Center for Families Kontos Faculty Fellowship supported development of his SpeechVive application, which helps non-verbal children with autism improve their communication skills. His software was licensed by Purdue Research Foundation and has now reached thousands of families around the world.
Another guest speaker, Joyce Wessel Raezer, a military family advocate and policy expert and the former longstanding director of the National Military Family Association, discussed MFRI's influence as a thought leader in guiding policy and practice at the local, state and national levels. MFRI Director Shelley MacDermid Wadsworth, for example, has served as a subject matter expert for the Department of Defense's Congressionally Directed Medical Research Programs, and she advises a number of governmental and nonprofit entities on topics such as family resilience.
Measurable impacts
Along with anecdotes, the event showcased measurable impacts by CFF and MFRI. Collectively, since their founding, the two organizations have:
engaged 300,000 families, professionals and communities;
awarded $650,000 to faculty and students for research;
provided over 400 students with learning opportunities; and
received 117 grants for research and programming.
Forging better futures for families
The anniversary gala marked the launch of a fundraising campaign for both centers. Borrowing from the event title, the Forging Better Futures for Families Campaign is designed to supplement sponsored research and endowment funds through one-time, recurring and planned gifts.
Currently, campaign efforts are centered on Purdue Day of Giving, the University's annual fundraising blitz, which will take place this year on April 27. Donations given over the 24-hour period may be earmarked for MFRI or CFF.