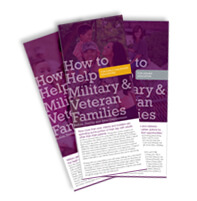 How to Help Military and Veteran Families is a series of publications that offer resources to various audiences to help them assist and support military and veterans families. Each issue provides evidence-based guidance on how a particular group can help military families. All issues have been carefully reviewed by subject matter experts and military family support organizations.
NEWLY UPDATED: Our How to Help For Professionals Working with Family Caregivers is now updated with the most up-to-date, evidence-informed information. It is posted below, as are other available issues. Printed copies in an attractive folded format are available at cost in quantities of 100 or more.
The series is the result of a joint effort between the Department of Defense and the Department of Agriculture, in collaboration with MFRI and the National Military Family Association.
We welcome your suggestions for new topics or audiences that could be addressed by the series.
Contact mfri@purdue.edu to order or provide suggestions.