About the award
2020
2019
2018
2017
Previous years
Excellence in Research
The Military Family Research Institute's Excellence in Research on Military and Veteran Families Award was established in 2015. The goals of the award are to:
bring visibility to issues of military and veteran families generally, and to outstanding new research specifically;
increase the impact of rigorous scientific evidence on programs, policies and practices affecting military and veteran families;
strengthen connections between researchers and practitioners interested in military and veteran families; and
raise awareness of research on military and veteran families across many disciplines.
The winning paper is selected through a rigorous process. No nominations or applications are accepted, and authors have no idea their work is being considered. Instead, a large panel of accomplished scholars examines every relevant article published during the eligible year and through multiple rounds of review that include standardized quantitative assessments, arrives at the final selection.
In 2019, MFRI named the Excellence in Research on Military and Family Veteran Award after Barbara Thompson, who has served military and veteran families for over 30 years.
MFRI thanks the Association of the United States Army (AUSA) and Military REACH for supporting this award, and joining us in our mission to advance important research about and for military and veteran families.
2021 recipient
Zhang, N., Hoch, J., & Gewirtz, A. H. (2020). The physiological regulation of emotion during social interactions: Vagal flexibility moderates the effects of a military parenting intervention on father involvement in a randomized trial. Prevention Science, 21, 691-701. https://doi.org/10.1007/s11121-020-01122-6.
Study takeaways
The vagus nerve connects to the heart and helps regulate the muscles of the face, neck, and head. Cardiac vagal tone – a measure of heart rate variability – underlies social engagement behaviors and can be considered an index of physiological emotion regulation. Emerging research suggests that cardiac vagal tone may be related to parenting behaviors.
The After Deployment Adaptive Parenting Tools (ADAPT) program was designed to strengthen effective parenting behaviors and to prevent children's mental health problems in military families. It teaches many aspects of effective parenting behaviors such as problem solving, monitoring, discipline, skill encouragement, positive involvement, and emotion socialization.
Although on average military fathers did not show significant improvements in parenting if they were randomized into the ADAPT program (vs. service as usual), our study showed evidence that the ADAPT program was more effective in strengthening fathers' parenting if fathers had higher levels of physiological emotion regulation capacities. This suggests that physiological emotion regulation may be a biomarker that predicts how effective the ADAPT program would be for military fathers. Such findings can provide a future opportunity to tailor the intervention to best meet fathers' different needs.
Read a summary of this article courtesy of Military REACH.
Download our takeaways document summarizing papers by the winner and the finalists.
Researcher biographies
Na Zhang is an assistant professor in the Department of Human Development and Family Sciences at the University of Connecticut. As a family scholar and prevention scientist, her program of research analyzes the intrapersonal and interpersonal pathways involved in the development of psychopathology and resilience among youth and adults who were exposed to stressful or traumatic experiences. A major focus of her research is on the development and evaluation of behavioral parent training programs that consider parents as the agents of change. Zhang has investigated how effective parenting may lead to resilience outcomes in children from at-risk families. Her current program of research focuses on mindfulness training as an intervention strategy to strengthen and optimize parenting programs.
John Hoch is a clinical psychologist and researcher at Fraser Child and Family Center in Minneapolis and at the University of Minnesota. His clinical work focuses on children with autism and other neurodevelopmental disorders. He is interested in the analysis of mobile psychophysiological data that is applicable to real-world clinical problems. Hoch's research seeks to garner results in deriving predictors of social determinants of health behaviors and trauma exposure from clinical data to allow for earlier identification and treatment. He hopes that clinical research will make the invisible visible and lead to better outcomes for clients.
Abigail Gewirtz is a Foundation Professor in the Department of Psychology at Arizona State University. Her research focuses on development, effectiveness testing, and widespread implementation of targeted prevention programs that promote child resilience among highly stressed families, including those affected by military deployment and war. Gewirtz's research has been funded by the U.S. National Institutes of Health, the Substance Abuse and Mental Health Services Administration and the Department of Defense. She is also the director of the Center for Resilient Families, tasked with the national implementation and dissemination of evidence- based parenting programs to families affected by traumatic stress. She is the principal investigator on three randomized controlled trials to develop and test a web-enhanced parenting program for military parents returning from Iraq and Afghanistan.
2021 Finalists
Hajal, N. J., Aralis, H. J., Kiff, C. J., Wasserman, M. M., Paley, B., Milburn, N. G., … & Lester, P. (2020). Parental wartime deployment and socioemotional adjustment in early childhood: The critical role of military parents' perceived threat during deployment. Journal of Traumatic Stress, 33(3), 307-317. https://doi.org/10.1002/jts.22475
Lee, J. D., O'Neill, A. S., Denning, E. C., Mohr, C. D., & Hammer, L. B. (2020). A dyadic examination of drinking behaviors within military-connected couples. Military Behavioral Health, 8(4), 396–409. https://doi.org/10.1080/21635781.2020.1825241
O'Neill, A. S., Mohr, C. D., Bodner, T. E., & Hammer, L. B. (2020). Perceived partner responsiveness, pain, and sleep: A dyadic study of military-connected couples. Health Psychology, 39(12), 1089-1099. https://dx.doi.org/10.1037/hea0001035
About Barbara Thompson
Barbara Thompson assumed the duties of director for the Office of Military Family Readiness Policy, Office of the Deputy Assistant Secretary of Defense for Military Community and Family Policy in 2006 and retired in 2017. She was responsible for programs and policies that promote military families' well-being, readiness and quality of life. In this capacity, she had oversight for Department of Defense child development and youth programs, serving 700,000 children daily at more than 300 locations worldwide. Thompson had purview over military family readiness program, including spouse career advancement, military family life cycle and transition support, community capacity building supporting geographically dispersed military members and their families, the Family Advocacy Program, and Exceptional Family Member Program. She also coordinated support programs for the severely injured and supported the rebuilding of the Ministry of Education in Iraq. Thompson continues her leadership in the military community by advising multiple national organizations including MFRI.
2020 Recipient
Carter, S. P., Renshaw, K. D., Allen, E. S., Markman, H. J., & Stanley, S. M. (2019). Everything here is fine: Protective buffering by military spouses during a deployment. Family Process, 59(3), 1261-1274. https://doi.org/10.1111/famp.12457
Study Takeaways
Nearly all military spouses (96%) reported that while their partner was deployed, they engaged in at least some protective buffering, which is intentionally withholding information or concerns from a romantic partner in an attempt to protect them from distress.
Previous studies found that military spouses largely engage in protective buffering to prevent service members from becoming distracted while deployed. However, this study found no relationship between protective buffering and family-related distraction among deployed service members.
Higher protective buffering by military spouses during a deployment was associated with higher psychological distress and lower marital satisfaction for both deployed service members and military spouses.
Protective buffering by military spouses during a deployment did not predict psychological distress or marital satisfaction after deployment.
2020 Finalists
View the takeaways from the 2020 winner and finalists (PDF).
2020 Presentation and Finalist Panel
View the recording of the 2020 award presentation and Family Dynamics and Military Service panel with award finalists.
2019 recipient
Allen, E., Knopp, K., Rhoades, G., Stanley, S., & Markman, H. (2018). Between- and within-subject associations of PTSD symptom clusters and marital functioning in military couples. Journal of Family Psychology, 32(1), 134-144. http://dx.doi.org/10.1037/fam0000363
Study takeaways
In a sample of 570 male Army service members and their wives, the current study analyzed how different post-traumatic stress disorder (PTSD) symptom clusters (numbing, hyperarousal, effortful avoidance, and re-experiencing) related to three aspects of couple functioning (marital satisfaction, positive bonding, and conflict behavior) over a two year period.
Higher overall levels of PTSD symptoms in all clusters were related to poorer average couple functioning, but the strongest effects were seen in the numbing cluster for husbands and the avoidance cluster for wives. Over time, changes in numbing predicted worse couple functioning for both spouses. Thus, numbing showed the most consistent associations with couple functioning in our study.
Although all PTSD symptom clusters were linked with couple functioning, couples may experience numbing symptoms as the largest PTSD-related stressor for their marriage. Clinicians could look for numbing symptoms to identify couples who are at risk, and could also target numbing symptoms through PTSD treatments in order to improve service members' relationships.
View the full paper courtesy of the Journal of Family Psychology until January 3, 2020.
2019 finalists
2018 recipient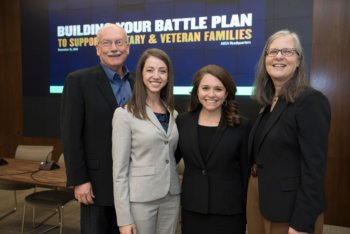 Arnold, A. L., Lucier-Greer, M., Mancini, J., Ford, J., & Wickrama, K. (2017). How family structures and processes interrelate: The case of adolescent mental health and academic success in military families. Journal of Family Issues, 38(6), 858-879. doi:10.1177/0192513X15616849
The transitional nature of military life positions the family to serve as the primary and most stable influence for adolescents in military families. These military-related transitions and stressors may also put youth at risk for depression and academic challenges. This study examines the relative impact of family structure (family composition at a given time point) and family processes (interpersonal interactions developed over time) on important adolescent outcomes (depressive symptoms and academic performance) for a sample of military youth (N = 995). While family structure, particularly being part of a stepfamily or single-parent family, was related to greater depressive symptoms and poorer academic performance, family processes (family support and parent–adolescent connection) and personal resources (initiative) also accounted for depressive symptomology and academic performance. Importantly, when modeling family processes, no differences were found across family structures. Military youth thrive in diverse family forms in the presence of healthy family processes.
2018 finalists
Karney, B. R., & Trail, T. E. (2017). Associations between prior deployments and marital satisfaction among Army couples. Journal of Marriage and Family, 79, 147-160. doi:10.1111/jomf.12329
Trail, T. E., Meadows, S. O., Miles, J. N., & Karney, B. R. (2017). Patterns of vulnerabilities and resources in U.S. military families. Journal of Family Issues, 38, 2128-2149. https://doi.org/10.1177/0192513X15592660
Vogt, D., Smith, B. N., Fox, A. B., Amoroso, T., Taverna, E., & Schnurr, P. P. (2017). Consequences of PTSD for the work and family quality of life of female and male U.S. Afghanistan and Iraq War veterans. Social Psychiatry and Psychiatric Epidemiology, 52, 341-352. doi: 10.1007/s00127-016-1321-5. Epub 2016 Dec 31.
View the 2018 and 2017 recipients and finalists' award takeaways.
An archived video of the Building Your Battle Plan for Military and Veteran Families panel discussion and the 2018 and 2017 award presentation is available on YouTube. The panel discussion starts at 20:00. The awards presentation starts at 1:39:47.
2017 recipient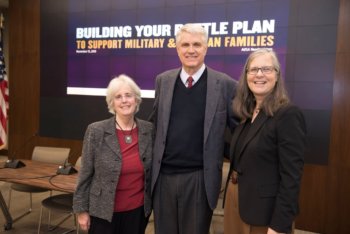 Kahn, J., Collinge, W., & Soltysik, R. (2016). Post-9/11 veterans and their partners improve mental health outcomes with a self-directed mobile and web-based wellness training program: A randomized controlled trial. Journal Of Medical Internet Research, 18(9). doi:10.2196/jmir.5800
The objective of this study was to evaluate effects of use of a web-based, self-directed program of instruction in mind- and body-based wellness skills to be employed by Global War on Terror veterans and their significant relationship partners on mental health and wellness outcomes associated with postdeployment readjustment.
2017 finalists
Cozza, S. J., Fisher, J. E., Mauro, C., Zhou J., Ortiz, C. D., Skritskaya, N., Wall, M. M., Fullerton, C. S., Ursano, R. J., & Shear, M. K. (2016). Performance of DSM-5 persistent complex bereavement disorder criteria in a community sample of bereaved military family members. American Journal of Psychiatry, 173, 919-929. doi: 10.1176/appi.ajp.2016.15111442.
Saltzman, W. R., Lester, P., Milburn, N., Woodward, K., & Stein, J. (2016). Pathways of risk and resilience: Impact of a family resilience program on active-duty military parents. Family Process, 55, 633-646. doi: 10.1111/famp.12238.
Taylor, C. M., Ross, M. E., Wood, J. N., Griffis, H. M., Harb, G. C., Mi, L., Song, L., Strane, D., Lynch, K. G., & Rubin, D. M. (2016). Differential child maltreatment risk across deployment periods of U.S. Army soldiers. American Journal of Public Health, 106, 153-8. doi: 10.2105/AJPH.2015.302874.
View the 2018 and 2017 recipients and finalists' award takeaways.
An archived video of the Building Your Battle Plan for Military and Veteran Families panel discussion and the 2018 and 2017 award presentation is available on YouTube. The panel discussion starts at 20:00. The awards presentation starts at 1:39:47.
2016 recipient
Larsen, M., McCarthy, T., Moulton, J., Page, M., & Patel, A. (2015). War and marriage: Assortative mating and the World War II GI Bill. Demography 52(5), 1431–1461.
World War II and its subsequent GI Bill have been widely credited with playing a transformative role in American society, but there have been few quantitative analyses of these historical events' broad social effects. We exploit between-cohort variation in the probability of military service to investigate how WWII and the GI Bill altered the structure of marriage, and find that it had important spillover effects beyond its direct effect on men's educational attainment. Our results suggest that the additional education received by returning veterans caused them to "sort" into wives with significantly higher levels of education. This suggests an important mechanism by which socioeconomic status may be passed on to the next generation.
2016 finalists
"Characteristics and use of services among literally homeless and unstably housed U.S. veterans with custody of minor children," authored by Jack Tsai, Ph.D., Robert A. Rosenheck, M.D., Wesley J. Kasprow, Ph.D., M.P.H., and Vincent Kane, M.S.W.; and
"Perspectives of family and veterans on family programs to support reintegration of returning veterans with posttraumatic stress disorder," authored by Ellen P. Fischer, University of Arkansas for Medical Sciences; Michelle D. Sherman, University of Oklahoma Health Sciences Center; Jean C. McSweeney, University of Arkansas for Medical Sciences: Jeffrey M. Pyne and Richard R. Owen, University of Arkansas for Medical Sciences
If you would like to revisit the 2016 evening's discussion, please view the archived version of this event.
2015 recipient
Lundquist, J., & Xu, Z. (2014). Reinstitutionalizing families: Life course policy and marriage in the military. Journal of Marriage and Family 76(5), 1063-1081.
Jennifer Lundquist, University of Massachusetts Amherst, and Zhun Xu, Howard University, argue that structural conditions of modern military service – including deployment, frequent moves and overarching characteristics of military employment – shape the relationships between spouses and service members. Through the article, the authors bring together life course literatures on turning points, the welfare state, and linked lives to show how military policies are part of an overarching institutional culture that directly and indirectly promotes marriage.
2015 finalists