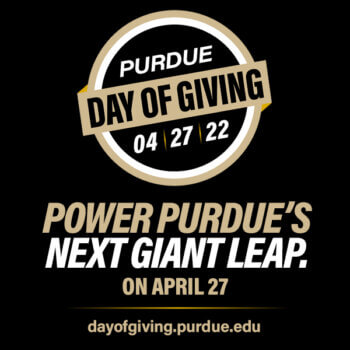 Thanks to the incredible generosity you and the rest of the Purdue community have shown, Purdue Day of Giving has in recent years become the most successful fundraiser in higher education.
On April 27, 2022, we're calling on the entire Purdue community to come together for another giant leap: for our students, for the University, and for the world. Whether you're on campus or have taken your Purdue pride across the planet, we want you to be part of building a brighter future for all of us. Together, we can help support Purdue's giant leap as one of the world's leading academic institutions on Purdue Day of Giving!
We recognize that these are challenging times for all of us, and that not everyone may be in a position to contribute to these efforts as they would normally like to. That's why we encourage you to take a small leap and spread the word about MFRI on social media. Remember to tag @MFRIPurdue on Twitter or Facebook and use #PurdueHHS and #PurdueDayofGiving in your posts.
On April 27, you can help us turn a small step into our world's next giant leap — and show the world why we're so proud to say that we are Purdue!