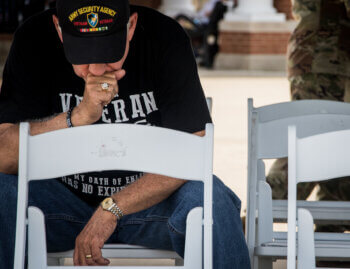 The Military Family Research Institute has received a grant from the Bob Woodruff Foundation to help reduce food insecurity for 500 veterans in rural Indiana. MFRI is one of 44 organizations that were chosen this spring by the foundation in an investment of more than $4.6 million for programs and services targeted at veterans, caregivers and military families impacted by COVID-19.
Researchers estimate that since the COVID-19 pandemic began, up to 40% of veterans and military families have experienced food insecurity. The Woodruff grant will target low-resource veterans and their families in eight rural counties in Indiana through support of MFRI's Reaching Rural Veterans (RRV) program. A collaboration between MFRI, food pantries and faith-based communities, RRV honors former military members for their service while connecting them to programs and benefits through resource fairs and one-on-one education.
About the Bob Woodruff Foundation: BWF leverages its expertise and collaborative network to find, fund and shape innovative programs that help impacted veterans, service members and their families thrive. As a nonpartisan leader in the military-veteran community, the foundation brings transparency and credibility to its partners and complements their efforts. Learn more at https://bobwoodrufffoundation.org/.