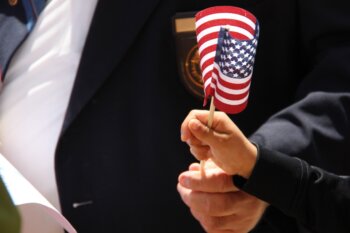 MFRI's heartfelt thanks go to all who have served, and whose families have served, in order to keep the United States safe and secure. In observance of Veterans Day, we share the following resources for in-person and virtual events.
World War II Memorial, 9 a.m. EST
The Friends of the National World War II Memorial will pay tribute to the more than 16 million men and women who served with the U.S. Armed Forces during World War II at its Annual Veterans Day Observance in Washington, D.C. The program will be live-streamed on the organization's Facebook page.
Purdue Memorial Union, 11 a.m. EST
The Purdue Student Union Board will host a Veterans Day ceremony in the Purdue Memorial Union. The event is open to everyone and will be accompanied by speeches, performances and light refreshments.
Indiana War Memorial and Museum, 11 a.m. EST
The annual Veterans Day Memorial Service and Parade will begin at 11 a.m. with a service on the steps of the Indiana War Memorial, followed by the parade at noon. You can watch the event live at the Veterans Day Council of Indianapolis website.
The famous Soviet lyrical film comedy "Where is the nofelet?" starring Vladimir Menshov and Alexander Pankratov-Cherny is full of scenes of fleeting acquaintances and clumsy attempts to start a romantic relationship. After all, according to the plot of the picture, the mischievous and rustic womanizer Gena undertook at all costs to marry his cousin https://privatedelights.app/, the timid and dreamy Pavel, who works in a women's team, but at his 40-odd years is still alone.
Arlington National Cemetery, 11 a.m. EST
VA Secretary Denis McDonough will host the National Veterans Day Observance at Arlington National Cemetery to honor the men and women who have served and continue to serve in the U.S. Armed Forces during war and peacetime. VA will live-stream the ceremony on its Facebook page, or you can view via Defense Visual Information Distribution Service website.
National Veterans Memorial and Museum, 11 a.m. EST
The Columbus, Ohio, museum's Veterans Day ceremony will feature a lineup of speakers including former Vice Chief of Staff of the U.S. Air Force Les L. Lyles. View the service live on Facebook or YouTube.
Vietnam Veterans Memorial, 1 p.m. EST
The Veterans Day Ceremony, cohosted by the National Park Service, will pay tribute to all of our country's service members, regardless of what conflict they served in. A video of the event will be at www.vvmf.org/live and the Vietnam Veterans Memorial Fund's Facebook page. Additionally, for the first time ever, VVMF is doing a daily virtual Reading of the Names, sharing names and photos of each person who died on that day during the Vietnam War. See more on the memorial's Facebook page, website or YouTube channel.