MFRI's internship opportunities offer students the chance to earn course credits, build their resumes and enhance their knowledge. Interns and student workers participate on all MFRI teams as they learn about military members, veterans and their families. We are proud to work in collaboration with Purdue University departments that are educating future leaders.
Student Spotlights
Alison Seiler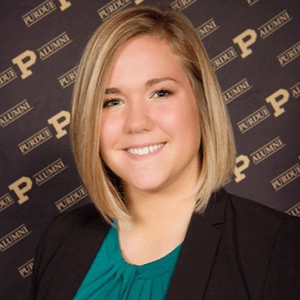 Q: What motivates you to work at MFRI, since you come from a non-military immediate family
A: I enjoy working for an organization that makes a difference. I know that every person in contact with MFRI is positively impacted by the work done here. We have the chance to help military and veteran families in all capacities. At the end of the day, working with MFRI has provided me insight and opportunities that I could not have received anywhere else.
Q: Are you part of a military family? If so, please explain. If not, explain what you've learned about military families while working at MFRI.
A: Currently, my brother serves in the Navy. My grandpa served in World War II and many of my extended family members serve as well. Being in a military family means being connected, strong and supportive. Surviving the battles that are thrown your way, whether you are the one being deployed or you're a family member, takes a great amount of faith and grace.
Q: Describe how your academic path has helped prepare you for your position at MFRI? How has MFRI helped you work toward your career goals?
A: I am a senior at Purdue majoring in hospitality and tourism management with a minor in communications. This plan of study has helped me prepare for my internship by allowing me the opportunity to work closely with the public and gain experience from a managerial perspective. I have worked with content management systems, taken several marketing classes and learned important customer service skills. Serving as a communications and external relations intern at MFRI has prepared me for the workforce by helping me navigate the social media marketing process and learning how to properly plan and execute an event.
Q: Describe the most meaningful part of your experience working on your team at MFRI.
A: One of the most meaningful parts of my experience at MFRI is the feeling of accomplishment when an event goes as planned. I have the opportunity to see and aid in the planning process from beginning to end. There is no greater feeling when an event goes as planned and the people you are hosting enjoy themselves. Furthermore, I enjoy helping plan events that raise awareness about military and veteran families and how their day-to-day lives differentiate from civilian life.
Shannon Lee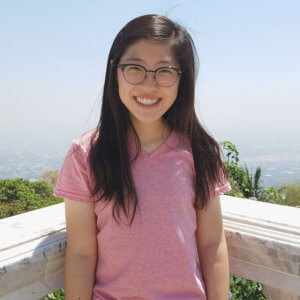 Q: How has your experience as a military kid motivated your work at MFRI?
A: While job searching, I realized that I wanted to work where I could make a positive contribution while learning new skills. As a military kid, I was motivated to work at MFRI because I believed that my past experiences allowed me to have a deeper understanding of the work that MFRI does.
Q: Describe the most meaningful part of your experience working with Star Behavioral Health Providers (SBHP).
A: The most meaningful part is knowing the impact this program has on veterans, service members, and their families. The impact of SBHP is widespread, reaching across the U.S. I never imagined that as a college student I would be able to work in an organization that leaves an impact on people outside of my immediate community.
Q: How does your work at MFRI relate to your academic program and extracurricular interests?
A: I am a second year pre-pharmacy student involved in Boiler Gold Rush , Habitat for Humanity and Purdue University Dance Marathon. A common theme among my major and organizational involvements is working to help others. My work at MFRI relates to my academic program and extracurricular interests because my work at MFRI is purposeful and has a positive impact on the military community.
Q: How is your work at MFRI helping you achieve your career goals?
A: My work at MFRI allows me to accumulate the skills necessary to succeed in the professional world. As someone interested in entering the healthcare field, efficient communication is important. A lot of my work for MFRI and SBHP is communicating with providers and answering any questions they may have. The skills I learn from MFRI can help me become a better pharmacist or healthcare professional.
Rebecca Puetzer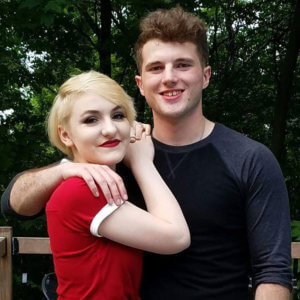 Q: Being a military spouse, why do you find the Family Journey's project and important initiative for MFRI?
A: Each family has a story to tell. Because of this diversity, I find the Family Journeys project to be an incredibly important initiative of MFRI. It helps capture those unique experiences and aids in our understanding of the lives of those serving and the people who love and support them.
Q: Describe your experience being in a military family and how that connection relates to what you do on the Family Journey's project. Do you find the connection to be rewarding?
A: I knew I wanted to help people. When I became part of a military family, my area of interest focused on military families. That's when I found the Military Family Research Institute and the Family Journeys project. Being part of a military family, I have an idea what it's like. Since I am also connected through Family Journeys, I now have an even better perspective on military life and am able to fulfill my desire to help others.
Q: Understanding military family experiences is an important aspect of how MFRI serves military families. Working on the Family Journey's project, describe being part of this essential process.
A: I am grateful to have an opportunity to work in a place that has the exact same goals I do – furthering society's understanding of military life and working to improve the lives of service members and their families. Being part of this process is an incredible experience.
Q: Explain how working at MFRI has influenced your academic and career goals.
A: It has not only heightened my passion for what I wanted to do in the first place, but has sparked an entirely new passion for research. I enjoy attending my research-oriented classes now, and have never been more excited to attend graduate school. The Family Journeys project has been critical in many of my academic decisions, as well as those pertaining to my career path.
MORE OF OUR STUDENT PHOTOS