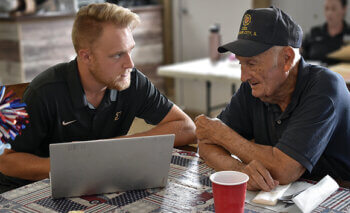 MFRI's Reaching Rural Veterans (RRV) program, whose third phase implementation began in Indiana late last year, reported positive and impressive results in March.
"The weather was better, and veterans were coming out to see what RRV is all about," reports Rena Sterrett, senior program administrator at the Military Family Research Institute at Purdue University. She says the uptick in attendance at monthly RRV events across the state can be attributed to expanded outreach efforts and more favorable weather heading into spring.
Roughly one-third of all veterans live in rural areas and are often less likely to have access to needed services than those in urban areas. Through RRV, MFRI staff partner with local food pantries to host veterans' appreciation events featuring resource fairs that connect veterans with healthcare, education, employment and financial services organizations.
At each event, MFRI staff administer surveys to better understand rural veterans' needs. Questions are crafted with the assistance of faculty in Purdue's Department of Human Development and Family Studies. In March alone, Sterrett reports that over 200 surveys were distributed to veterans in the Henry, Jefferson, Jennings and Wayne counties. Surveys are used to track the outcome of events and to flag veterans who may need assistance in navigating benefits and services.
MFRI staff previously ran a second implementation of Illinois in 2021. With additional grant funding from the U.S. Department of Agriculture (USDA), RRV is now also entering a fourth phase in Indiana, Illinois and Ohio. "Three new pantries have had their staff members trained for RRV events in the USDA expansion counties, and our own field staff have shown amazing commitment and flexibility in helping to establish an on-the-ground Purdue/MFRI connection with several of the new locations in Ohio," Sterrett says.
Ultimately, the new grant-funded locations will bring the total of active RRV sites to 15 across three states within the coming months. "We have extension partners working hard to find strong candidates for the next group of pantries," she says.
As part of the grant process, MFRI representatives are educating food pantry staff and volunteers about the strengths and struggles of military and veteran families and helping them recruit military-connected organizations to participate in pantry events. They are also coaching food pantries on best practices in promotion. As past months have shown RRV's goals to be achievable, Sterrett expects the continually warming weather of summer to improve outcomes on attendance and survey completion even more.