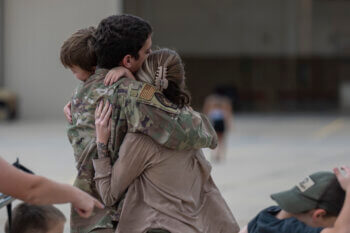 The Military Family Research Institute at Purdue University (MFRI) has announced five finalists for its 2022 Barbara Thompson Excellence in Research on Military and Veteran Families Award. The finalists come from a variety of academic fields and a wide range of institutions around the United States, from universities to military-affiliated organizations.
The five principal authors are Drs. Catherine Walker O'Neal (University of Georgia), Brittnie Peck (University of Wisconsin – Superior), Valerie Stander (Naval Health Research Center), Kathrine Sullivan (New York University), and Kristen Walter (Naval Health Research Center). Each of these authors' articles come from different journals, and were painstakingly selected from a review which originally included hundreds of potential candidates.
MFRI's Barbara Thompson Award was established in 2015. The goals of the award are to bring visibility to issues of military and veteran families generally, and to outstanding new research specifically; increase the impact of rigorous scientific evidence on programs, policies and practices affecting military and veteran families; strengthen connections between researchers and practitioners interested in military and veteran families; and raise awareness of research on military and veteran families across many disciplines.
The process for determining winners is highly selective to uphold MFRI's institutional standards. No nominations or applications are accepted, and winning authors are only informed that their work has been scrutinized after the review process is completed. A large panel of accomplished scholars examines every relevant article published during the eligible year and the final selection is decided through multiple rounds of review, including standardized quantitative assessments.
The 2022 finalists have all generated research that showcases a wider picture of military families, encouraging a holistic approach to health and wellness among the entire military-connected community. The studies seek to present a picture of military families that are more complex and diverse in their construction – where the children are considered as one of the prime decision making units within the family, or where relationships with life partners and spouses have come to include a greater variety of experiences.
MFRI presented the award at a ceremony on December 9. Winning and finalist authors discussed their work with researchers, practitioners and policymakers. Learn more about the award and this year's finalists and winners.
MFRI is a unit of the Department of Human Development and Family Science in the College of Health and Human Sciences at Purdue University. Its goal is to conduct research and outreach for communities and professionals who serve military and veteran families.