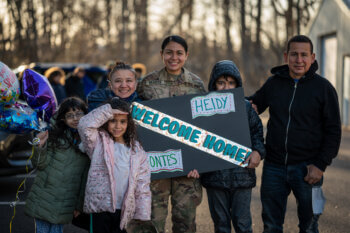 Registration is now open for MFRI's 13th annual Battlemind to Home Summit, which will bring together experts in mental health, law, community services and faith to strategize on helping active service members, veterans and their families better transition from the battlefront to the home front.
The summit will be held on Nov. 15, 2022, with preconference sessions on Nov. 14. All events will take place at Embassy Suites by Hilton Noblesville Indianapolis Conference Center. A limited virtual option is also available on the day of the conference, including general sessions, keynotes and some breakout sessions.
Registration
Registration fees are as follows:
Preconference (in-person only): November 14  
Early bird rate: $55
After Sept. 16: $65
Full-day conference (in-person or virtual): November 15  
In-person

Early bird rate: $120
After Sept. 16: $135

Virtual (includes some but not all breakout sessions)

Early bird rate: $55
After Sept. 16: $65
Targeted to Indiana professionals
Nearly 400,000 veterans, 24,000 active duty and reserve members and nearly 160,000 people in their immediate families currently live in Indiana. The Military Family Research Institute (MFRI) at Purdue University hosts the Battlemind summit specifically for Indiana professionals who work with military-connected populations.
Presentations focus on ideas and tactics that professionals can employ to assist their clients with reintegration into civilian life and other unique challenges that military service can introduce to military members and their families' lives.

The term "battlemind" was initially used by military to talk about the inner strength needed to face adversity, fear and hardship during combat. The application of the term has broadened to include psychological resiliency both during and after deployment.
Keynotes
The 2022 conference will feature two keynote speakers: Amy Smith Slep, professor at New York University (NYU), and Mary Tobin, senior advisor with AmeriCorps.
Slep, a licensed clinical psychologist, co-directs the Family Translational Research Group at NYU, comprising an interdisciplinary team researching violence in families and prevention approaches. Her work on definitions of maltreatment has resulted in definitions that are now being used throughout the U.S. military, are being implemented across the state of Alaska, have influenced the DSM, and are being included in the ICD-11. She has published over 150 scientific articles and book chapters and has received approximately 75 federal research grants. She is a licensed clinical psychologist.
Tobin is a veteran with more than 18 years of leadership development, project management, community engagement and public speaking experience. She currently serves in the Biden-Harris administration as senior advisor for Wounded Warrior, Veteran and Military Family Initiatives at AmeriCorps.
Preconference sessions
Optional preconference sessions will take place on Nov. 14. They will be held in person only. Attendees may choose from three half-day sessions or one full-day session: 
SAMHSA Governor's Challenge on Suicide Prevention for behavioral health, community or faith professionals 
Serving LGTBQ+ Veterans and Service Members for behavioral health, community or faith professionals 
An Overview of VA and Military Benefits for Elder Law Attorneys and VA Accredited Representatives for legal professionals 
The Data Academy for community organization professionals who are novice data users (free, limited to 30 participants)
Location
For the first time since 2018, the Battlemind to Home Summit is returning to a live, in-person event in Indianapolis. The event venue, Embassy Suites by Hilton Noblesville Indianapolis Conference Center, is located off I-69 north of Indianapolis, near Hamilton Town Center, IKEA and Topgolf. Noblesville is seated within Hamilton County, which offers a diverse array of shopping centers, dining options and attractions.
Conference organizers have reserved a block of rooms at Embassy Suites. Overnight guests may register via the link at the conference website to obtain the discounted rate. The deadline to register via the discount code is October 13 at 11:59 p.m.
Collaborators and partners
MFRI organizes the summit each year in collaboration with the Richard L. Roudebush VA Medical Center in Indianapolis, the Indiana National Guard, the Center for Faith-Based and Neighborhood Partnerships, the Indiana State Bar Association and the Indiana Department of Veterans Affairs.
Sponsorship opportunities include bronze, silver, gold and platinum levels; scholarship underwriting; and in-kind donations. Interested organizations may contact Kathy Broniarczyk, senior director of outreach and operations at MFRI, at kbroniar@purdue.edu.
Scholarships are available for participants who would otherwise be unable to attend. Complete the application here.
More information about the summit is available online, on the MFRI Facebook page or on Twitter. Join in the conversation by using the hashtag #battlemindIN.