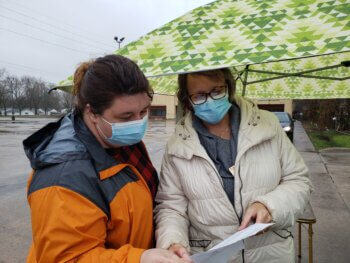 "I was looking for hope and community and I found both, along with some needed services right here."
— RRV participant
Roughly one-third of all veterans live in rural areas and are often less likely to have access to needed services than those in urban areas. Organizations such as Purdue's Military Family Research Institute seek to meet rural veterans where they are with the care they need. 
In collaboration with food pantries and faith-based communities, MFRI's Reaching Rural Veterans (RRV) connects former service members with needed services and benefits through resource fairs and one-on-one education at food pantries in rural areas. Originally piloted in Indiana and Kentucky, RRV has expanded this year to Illinois, thanks to funding from the Robert R. McCormick Foundation.
Partnering with faith-based communities and Illinois Extension
RRV in Illinois is a partnership between MFRI, University of Illinois Extension, food pantries, and faith communities. Its primary objective is to provide food, medical and behavioral health support, education and resources, including VA benefits, to low-income, homeless and low-resource veterans located in rural areas, says Rena Sterrett, senior community outreach specialist with MFRI.
"Veterans who live in rural areas can have difficulty accessing the resources they need," she says. "Reaching Rural Veterans events make accessing these resources much easier by having them all in the same place at the same time."
The project also seeks to:
educate local faith communities, food pantry staff and other community organizations about veteran families;
engage local faith communities and others in providing support and assistance to military-connected families; and
educate low-income, homeless and low-resource veteran families about nutrition and health.
Identifying counties of greatest need
Originally planned for 2020, the launch of RRV in Illinois was put on hold for a year because of the COVID-19 pandemic. When MFRI was ready to move forward, Sterrett connected with the University of Illinois Extension, which helped her identify five rural Illinois counties to target: Fulton and Effingham counties in central Illinois, and Union, Perry and Saline counties in southern Illinois.
"We had five counties that were chosen based on several categories, one how rural they were – which is determined by qualities such as location to urban areas and population," Sterrett says. "We wanted them to be as rural as possible, with a fairly high percentage of veterans."
Making it easy, efficient and safe for veterans
Illinois Extension staff also helped to locate food pantries in the targeted counties. Then MFRI staff got to work, identifying services available to veterans and examining county demographics through the institute's Measuring Communities program. They shared this information with food pantry staff and volunteers during orientation sessions that also included cultural competency training on military culture.
The program debuted in Illinois in March 2021 and will take place at walk-in and drive-up food pantries for nine months in 2021. In addition to providing education, materials and resources one-on-one to clientele, participating pantries will also bring together multiple veteran-oriented services through resource fairs on a regular basis.
The idea is to make it easy, efficient and safe for veterans to obtain benefits and services and build support, Sterrett says: "Right now, our goal is to reach 50 veterans in each pantry over the span of nine months of programs."
To evaluate the effectiveness of the program, MFRI is teaming up with Heather Eicher-Miller, associate professor in Purdue's Department of Nutrition Science, who specializes in nutrition and food insecurity. She and a PhD student have designed a survey for veterans that they can complete at the beginning and at three months into their participation in the program.
Building upon a successful pilot program
Eicher-Miller also was part of the Reaching Rural Veterans pilot, which was created after extensive reviews of the academic literature and existing programs targeted at homeless and low-resource veteran families in rural areas.
The pilot took place with ten food pantries selected in Indiana and Kentucky based on rurality, need, community partnerships and budget. Participating pantries received grants to support outreach and engagement activities directed toward veterans living in their service areas, and were provided with training, materials and resources to reach out to rural veterans.
Sterrett notes that at regular intervals, food pantries held special outreach events where services directed toward veterans living in the area were provided. "The goal was to bring together multiple resources to make it easy, efficient and nonthreatening for veterans to obtain services and build support with other veterans and the community," she says.
Evaluations of the pilot, whose results were published in the Journal of Public Health, showed an improvement in food pantry staff's knowledge of veterans' needs, as well as increased participation by veterans.
Along with these quantitative measures are also dozens of stories about veterans whose lives were changed by Reaching Rural Veterans, through access to affordable housing, Veterans Health Administration benefits and other resources in their own communities. As one pilot participant commented, "I was looking for hope and community and I found both, along with some needed services right here."
Writer: Kristen Cavallo
Source: Rena Sterrett (rsterret@purdue.edu)
Photo: Renee Trappe, courtesy of the Du Quoin Call