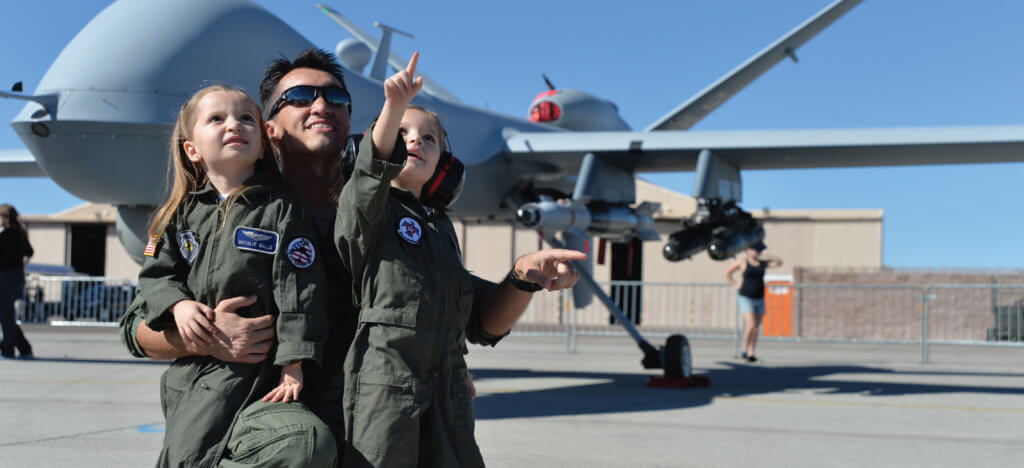 The Family Support team conducts community outreach and mobilization to support and strengthen communities that serve military and veteran families.
Community outreach
Community mobilization is an integral part of MFRI's efforts. By bringing together diverse stakeholders and community members, we foster strong relationships among military and veteran families, local governments, businesses and community members.  In addition, we enhance communities by providing access to resources, data and training on these families' needs.
Learn more »
Star Behavioral Health Providers: An award-winning collaboration
In 2010, MFRI, the Center for Deployment Psychology (CDP), the Indiana National Guard (INNG) and the Indiana Family and Social Services Administration (FSSA) created Star Behavioral Health Providers (SBHP).  SBHP trains civilian behavioral health professionals about military-specific issues. It also helps military and veteran families find SBHP providers through an online registry that MFRI maintains and manages. An award-winning initiative, SBHP is now active in nine states. The collaboration was the model for federal legislation that increased civilian behavioral healthcare support for military and veteran families.
Learn more »
Measuring Communities
Measuring Communities is a social indicators project designed to strengthen community support systems for military and veteran families. Nationwide, organizations working to assist these families use a variety of efforts, strategies and programs. Some are rigorous and evidence-informed, but others are much less systematic. As a university-based institute, MFRI can help by assembling and making available important data about the state of military and veteran families.  That's what Measuring Communities does. Interactive maps display information using national and regional military and veteran-specific data about 10 topics including employment, demographics and behavioral health. Communities use this tool to help find gaps in local services and strengthen their efforts. Interested in finding out more? Contact Kathy Broniarczyk, director of outreach and operations.
Joining Community Forces Indiana
Joining Community Forces Indiana (JCFI) is a partnership among MFRI, the Indiana National Guard, and the national and state Departments of Veterans Affairs. An outgrowth of the Obama administration's Joining Forces initiative, JCFI educates nongovernmental organizations, departments of state government, corporations, policy makers, local leaders and works to build and maintain robust working relationships among Indiana communities. Several working groups focus on specific issues. For example, JCFI, MFRI and the Indiana Bar Association sponsored two Indiana Military and Veteran Legal Summits for court system professionals and social service organizations. Nearly 200 attending — including judges, prosecutors, court staff and veteran treatment court mentors — gained information about military and veteran families. This included information about veteran treatment courts. Other working groups focus on suicide prevention and financial literacy. To learn more, contact MFRI Outreach Specialist Christy Collette and follow JCFI on Facebook.
Battlemind to Home Mental Health Summit
The Battlemind to Home Mental Health Summit is a collaboration among MFRI, the Richard L. Roudebush VA Medical Center, the Indiana National Guard, and VA Center for Faith Based and Neighborhood Partnerships. Its purpose is to increase community awareness about the challenges and opportunities that are unique to military and veteran families. Since 2009, Battlemind has helped community partners better understand the challenges facing veterans and their families. It has sparked increased community commitment to joint collaborations for enhancing veteran care. Each year, the agenda is based on current state trends and feedback from previous attendees. In 2017, about 200 attendees took part in sessions on women veterans, access to care, family reintegration, behavioral health issues and resources. The program also featured session about the expansion of veteran treatment courts throughout the state. Contact MFRI Outreach Specialist Christy Collette to sign up to receive information about the 2018 Battlemind event.
Strengthening resources with Reaching Rural Veterans
Reaching Rural Veterans aims to strengthen resources and services for at-risk military and veteran families. Launched in Indiana and Kentucky, the pilot was a collaboration among rural area faith-based food pantries and veteran and military family service providers. This initiative reduced food insecurity and helped communities increase supports for veterans.
Learn more »