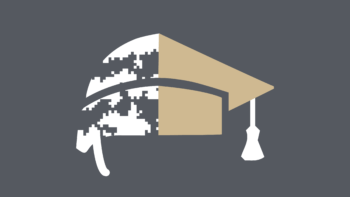 Seventeen women students from across the United States will begin a two-week virtual residency on Sunday (July 25) as part of the Military Family Research Institute's Focus Forward Fellowship.
The annual mentoring program helps women student veterans and current service members hone their leadership skills and career goals while they build a community of support. Fellows are competitively selected from across the country and attend at no cost, thanks to scholarships made possible by MFRI funders.
For the 2021 Focus Forward Fellowship, MFRI received applications from 75 eligible candidates. After external and internal review, Fellowship organizers extended offers to the top applicants.
The 17 women participating this year hail from 14 states and eight colleges and universities. The cohort represents an array of academic disciplines and five branches of service: Army, Navy, Marines, Air Force and the Coast Guard.
Alison Seiler, education and employment outreach associate at MFRI, is spearheading the Fellowship's daily programming. She says that it's the seventh year for the Fellowship and the second year for all-virtual programming.
"Even in a virtual world, we are striving to create an environment where these women are able to craft a supportive community with one another," she says. "We have designed the program so that the relationships initiated here go beyond the virtual summer residency and into the academic year through their online network."
Throughout the two weeks of programming, the Fellows will meet with a diverse host of mentors via video conferencing.
Returning mentors and seasoned professionals Betty Moseley Brown (chief of Veterans Affairs' Veterans Experience Office), Angela Crossin (attorney and partner at Crossin Law Offices and president of the Business Women United Network) and Jennifer McNelly (chief executive officer of the American Society of Safety Professionals) will coach Fellows in identifying their strengths and how to maximize them, and will also outline strategies and resources to increase their connections and successes on their campuses.
Guest speakers from within MFRI will help Fellows discover their personality styles and hone their skills for problem solving and and fostering academic and career success.
Statistically, women student veterans are older and have more family and job responsibilities than traditional students, Seiler says. They also have unique histories, such as combat experiences or frequent changes in duty station, which can often make them feel isolated on a college campus. The Focus Forward Fellowship help builds a support system of students experiencing similar challenges, she adds.
Once the two-week residency ends, the cohort will participate in an online private Facebook community throughout the 2021-2022 academic year. MFRI staff will answer questions and monitor the group's progress until next spring.
"I am excited for each and every one of them to take the skills they've learned from the Fellowship and apply them professionally, academically and socially," Seiler says.
Read more about the Focus Forward Fellowship, here, and follow the social media conversation on Facebook and Twitter; look for the hashtag #FWDFellows.