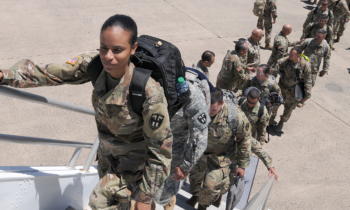 The Military Family Research Institute at Purdue University (MFRI), in partnership with the Association of the United States Army (AUSA), hosted "Building Your Battle Plan to Support Military and Veteran Families" on Nov. 13 in Arlington, Va.
Led by experts and authors of MFRI's initiative, "A Battle Plan for Supporting Military Families," guests from nonprofit and veteran service organizations came together to create specific, targeted plans to support and advance transformational change in family support for military and veteran families. The text (Hughes-Kirchubel, MacDermid Wadsworth & Riggs, 2018), offers key insights that focus on how organizations can produce powerful supports for military families before, during and after major conflicts. Contributors integrated knowledge gained during their work with families and distilled recommendations into practical, experience-based chapters.
Panel discussion precedes guided exercises
A panel discussion kicked off the event, with each providing the audience with insight on finding effective solutions for issues facing military and veteran families. They offered recommendation based on sector-wide experiences in the years following 9/11.
"These important groups came together to actively engage and collaborate to find solutions for military and veteran families," said Shelley MacDermid Wadsworth, MFRI director. "History has shown us that major conflicts can arise without warning. These changes affect military and veteran families in a variety of ways. With this in mind, the attendees began to build viable solutions that can be strategically implemented during a future major conflict."
Scholars honored for excellence in research on military and veteran families
The 2017 and 2018 MFRI Excellence in Research on Military and Veteran Families awards were also presented at the event. To find the top paper of each year, eight prominent scholars reviewed over 700 scientific articles, and helped conduct multiple rounds of review.
MFRI established the award in 2015 to recognize the best research on military-connected families. It is awarded to authors of research that combines exceptional rigor with important insights about military and veteran families. Nominations for this award are neither solicited nor accepted. Instead, a panel of top scholars reviews all the published research during the year and then determines the recipient.
About AUSA
The Association of the United States Army (AUSA) is the only private, nonprofit professional organization serving all components of America's Total Army and its supporters. Since 1950, AUSA has provided a voice for the Army and vital services for Soldiers, Army civilians, and their families to advance the security of our nation. If you have a connection with the Army—professionally or personally—AUSA is your resource for exclusive access to scholarships and grants, business opportunities, educational resources, philanthropy initiatives, family programs, influential representation, and genuine relationships with a supportive Army community.