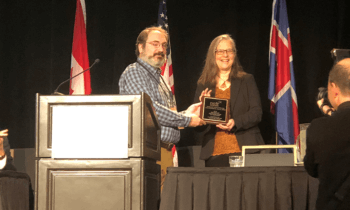 The National Council on Family Relations (NCFR) awarded Shelley MacDermid Wadsworth, Ph.D., a national award to recognize her career of outstanding mentorship to junior colleagues, graduate students and undergraduates.
MadDermid Wadsworth, who directs Purdue University's Center for Families and Military Family Research Institute, received the Felix Berardo Scholarship Award for Mentoring on Nov. 10 at NCFR's national conference.
The award is given in honor of Dr. Felix Berardo, a well-known and beloved professor from the University of Florida, who went above and beyond expectations in mentoring many students to become outstanding leaders in the family field. According to NCFR, "Outstanding mentoring goes beyond classroom teaching and includes the provision of support, guidance and opportunities for professional development."
"It is an honor to receive this award," MacDermid Wadsworth said. "Throughout my career I've had the privilege to mentor and interact with many students. It is one of the most rewarding parts of my job."
MacDermid Wadsworth's primary research interest is in the relationship between work conditions and family life. During her tenure she has studied differences between small and large workplaces, how adults grow and develop as a result of their work experiences, and how different kinds of organizational policies make it easier or more difficult for works to be successful at work and home.
As the director of MFRI and the Center for Families, she encourages student engagement, graduate and undergraduate research and offers student growth opportunities.
Christine McCall is one of MacDermid Wadsworth's current graduate students, and focuses her doctoral research on military and veteran families. She admires MacDermid Wadsworth's ability to think about the big picture and mentor each student according to their previous experiences and future goals.
"Shelley facilitates an environment where her students can become independent researchers," McCall said. "Her focus on strong theoretical arguments and methodologies continually pushes her students to develop work that has clear implications for both academic and military communities. She encourages us to develop a variety of professional skills such as data collection in community samples and leadership and mentoring development through work with undergraduate students."
About MFRI
The Military Family Research Institute (MFRI) at Purdue University conducts research on issues that affect military and veteran families and works to shape policies, programs and practices that improve their well-being. Founded in 2000, MFRI envisions a diverse support community that understands the most pressing needs of military and veteran families. To achieve this, MFRI collaborates to create meaningful solutions for them. This internationally-recognized organization is located at Purdue University's College of Health and Human Sciences, in the Department of Human Development and Family Studies.
About NCFR
The National Council on Family Relations, founded in 1938, is the oldest nonprofit, nonpartisan, multidisciplinary professional association focused solely on family research, practice, and education.