The director of the Military Family Research Institute (MFRI) at Purdue University and an MFRI staff member both received awards for engagement.
Shelley MacDermid Wadsworth, MFRI director, and Keara Ludiker, MFRI education and employment program specialist, each received the Purdue College of Health and Human Sciences Engagement Award on April 26.
MacDermid Wadsworth received the faculty award and Ludiker received the staff award.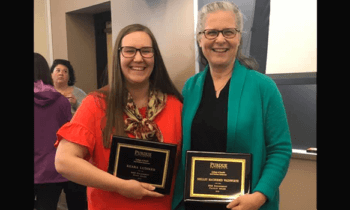 The purpose of this annual award is to recognize faculty and staff who have demonstrated outstanding achievements in engagement activities that have positively impacted the stakeholders of the College of Health and Human Sciences by addressing matters affecting the health, behavior and quality of life of people.
On April 23, MacDermid Wadsworth also received the Purdue Faculty Engagement Fellow Award.
This award is presented to a full professor whose work has led to a strong record in the scholarship of engagement. This award embodies the creation and dissemination of new knowledge through intensive community interaction and partnership culminating in document community impact.  
All three awards are nomination based.
About MFRI
The Military Family Research Institute (MFRI) at Purdue University conducts research on issues that affect military and veteran families and works to shape policies, programs and practices that improve their well-being. Founded in 2000, MFRI envisions a diverse support community that understands the most pressing needs of military and veteran families. To achieve this, MFRI collaborates to create meaningful solutions for them. This internationally-recognized organization is located at Purdue University's College of Health and Human Sciences, in the Department of Human Development and Family Studies.