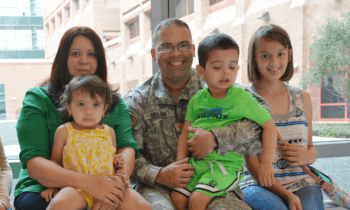 Military Family Research Institute (MFRI) at Purdue University advisory council member Nora Spinks joined leaders, early childhood professionals, parents and children to celebrate the launch of a picture book titled, We Have Superpowers.
The book launch took place at the National Capital Region Military Families Resource Centre (MFRC) in Ottawa Canada, and highlighted the courage of children who support military and veteran families. The book also encourages discussions about the impacts of physical and mental injuries on families.
Spinks, CEO of The Vanier Institute of the Family, spoke about the importance of expanding the number of resources for professionals working with military families. She also noted the significant part professionals' endorsement for the role We Have Superpowers will play in engaging with children both in practical settings and educational contexts.
"The book highlights different superhero parents being recognized, celebrated and supported by children with superpowers," Spinks said. "It is a wonderful story for all children. This book will help build military literacy in homes and early learning environments."
The story book is currently distributed across Canada, with a companion resource titled Early Learning Childhood Professionals and Practitioners Working With Military and Veteran Families, inspired by MFRI's How to Help series. These resources will be included in families transition materials and as a tool for early childhood educators. 
About the National Capital Region MFRC
The mission of the National Capital Region Military Families Resource Centre is to contribute to the well-being of Canadian Armed Forces families; enabling a mission-ready force that protects Canadians and Canadian interests across the country and around the world.