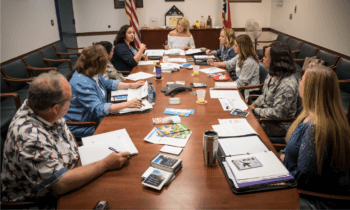 In 2014 Joining Community Forces Indiana (JCFI) was created to better serve service members, veterans and their families. An outgrowth of the Obama administration's Joining Forces initiative, JCFI educates nongovernmental organizations, departments of state government, corporations, policymakers, local leaders and works to build and maintain robust working relationships among Indiana communities.
The JCFI Executive Committee facilitates workgroups that address yearly priorities. Each workgroup is comprised of interested professionals and agencies as well as a representative from the Executive Committee. 2019 workgroup priorities include:
financial literacy training opportunities;
distribution of up-to-date information on how to secure emergency financial assistance;
awareness about suicide prevention strategies;
providing suicide prevention training for individuals and organizations; and
addressing the immediate and long-term needs of homeless and at risk individuals.
MFRI program administration specialist and MFRI liaison, Rena Sterrett, said communication is key to serving military families across Indiana communities.
"The Executive Committee strives to communicate with local groups across the state that serve military and veteran families. Communication between the Executive Committee and Indiana groups helps to strengthen collective efforts in helping military and veteran families across the state of Indiana."
Learn more by visiting the JCFI Facebook page or contacting Sterrett at rsterret@purdue.edu.
JCFI is a collaboration between the Military Family Research Institute (MFRI) at Purdue University, the Indiana National Guard (INNG), the Indiana Department of Veterans Affairs (IDVA), the Veterans Benefit Administration (VBA) and the Veterans Health Administration (VHA). These organization form the JCFI Executive Committee.