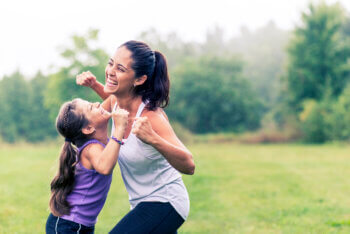 A College of Health and Human Sciences initiative designed to support families through the COVID-19 pandemic has received two engagement awards from Purdue University.
Families Tackling Tough Times Together has received an HHS Faculty Engagement Award for excellence in innovation and demonstrated impact in alignment with the college's strategic engagement goals. Additionally, the program has received a University Corps of Engagement Award for outstanding partnership and achievement among a team of faculty, staff, students and/or community stakeholders.
The program, which launched in mid-April 2020 at the height of shutdowns across the United States and around the world, contains nine modules of evidence-informed activities, along with two video series, all designed to strengthen family resilience.
More than 70 scientists, staff members and students worked together to create Families Together, under the leadership of Shelley MacDermid Wadsworth, a distinguished professor of human development and family studies and director of the Center for Families and the Military Family Research Institute.
While data analysis for Families Together is ongoing, early results have shown a positive impact. Among the metrics in a paper published last November in the International Journal of Military, Veteran, and Family Health: By the end of its first cycle last spring, the Families Together Facebook group had reached more than 1,300 families from 25 different countries. On average during that time, about 400 group participants were active each week.