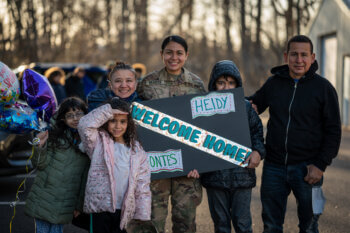 Registration is now open for the 12th annual Battlemind to Home Summit, which will bring together experts in mental health, law, community services and faith to strategize about how they can use their professional skills to work with all military-connected individuals — including active service members, veterans and their families — to better transition from the battlefront to the home front.
The event will be held virtually on Oct. 26, with preconference sessions on Oct. 25. Participants who register by Aug. 31 will receive the early bird rate of $40 per person for the conference and $20 per person for a preconference session; starting Sept. 1, fees will be $45 and $25, respectively.
Nearly 400,000 veterans, 24,000 active duty and reserve members and nearly 160,000 people in their immediate families currently live in Indiana. The Military Family Research Institute (MFRI) at Purdue University hosts the Battlemind summit specifically for Indiana professionals who work with military-connected populations. Presentations focus on ideas and tactics that professionals can employ to assist their clients with reintegration into civilian life and many other unique challenges that military service can introduce to military members and their families' lives.

The term "battlemind" was initially used by military to talk about the inner strength needed to face adversity, fear and hardship during combat. The application of the term has broadened to include psychological resiliency both during and after deployment.
Hope and Optimism
The theme of this year's conference is "Deploying Hope and Optimism in a Changing World," with the content tailored to that task, says Kathy Broniarczyk, director of outreach and operations at MFRI.
"In the past year alone, world events have continued to showcase the need for a support system geared toward military members and families navigating the path between service and civilian life," Broniarczyk says.
While the White House has committed to a presidential pledge of withdrawing all combat troops from Afghanistan by September 11, 2021, troops are being sent to new hotspots around the world. Stateside deployments have increased dramatically as well; in 2020, the National Guard was deployed for 11 million person days — more than at any other time since World War II — largely for necessary functions in the United States' COVID-19 response.
Faith-based track
This year, for the first time, Battlemind to Home will include a faith-based interest track for those community leaders who interact with military families in their religious institutions.
"This addition is part of an ongoing effort to meet military families where they are by providing outreach in the places most relevant to them," Broniarczyk says.
The 2021 conference will feature two keynote speakers: Mary Tobin, longtime advocate for service members and Army veteran currently serving as the Biden administration's AmeriCorps senior advisor for the Wounded Warrior, Veteran, and Military Family Initiative, and Dr. Harold Koenig, a psychiatrist bridging the gap between faith and medicine who founded and directs Duke University's Center for Spirituality, Theology and Health.
Preconference sessions
Three preconference sessions targeted at a specific career fields will allow professionals to delve into specific topics more thoroughly:
Search for Meaning: Addressing Moral and Spiritual Injury Related to Trauma for behavioral health & faith-based professions
Suicide Prevention: Coming Out of Quarantine Ready for Action for community members and beginning health care providers
An Overview of VA and Military Benefits for Elder Law Attorneys and VA Accredited Representatives for those in the legal profession
Conference platform
Battlemind to Home 2021 will be hosted on the Whova conference platform as it was in 2020, due to the overwhelmingly positive response from last year's attendees, says Elizabeth Klumpe, special events and donor relations specialist at MFRI.
"In 2020, attendees engaged with dozens of community topics, with a total of nearly 1,000 messages sent between participants in both the conference forum and privately within networking cohorts," Klumpe says. This virtual format facilitated a great deal of communication between attendees and appears to have increased connectivity between professional networks throughout the state comparable to an in-person event, she adds.
Past summits have taken place in Indianapolis and on Purdue's West Lafayette campus and have attracted hundreds of attendees and participants from more than 100 organizations in Indiana and nearby states.
Collaborators and partners
MFRI organizes the summit each year in collaboration with the Richard L. Roudebush VA Medical Center in Indianapolis, the Indiana National Guard, the Center for Faith-Based and Neighborhood Partnerships, the Indiana State Bar Association and the Indiana Department of Veterans Affairs.
Corporate sponsorships help to fund scholarships for attendees while keeping summit attendance costs low with additional assistance from collaborators' in-kind contributions. Sponsors will be recognized in event materials and will be given online exhibitor space via the Whova conference platform. Interested sponsors may contact Broniarczyk at kbroniar@purdue.edu.
Anyone interested in a scholarship to the Battlemind to Home Summit may complete an application here.
More information about the summit is available online, on the MFRI Facebook page or on Twitter. Join in the conversation by using the hashtag #battlemindIN.