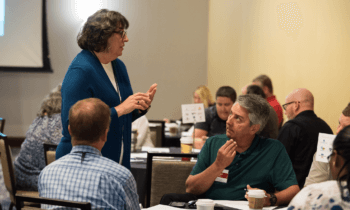 Registration for Battlemind to Home Summit (Battlemind) closed Aug. 22 due to overwhelming participant demand.
It is the first time registration has closed nearly two months before the event.
"We are excited to have a completely full Battlemind to Home Summit this year," said Christy Collette, outreach specialist for MFRI. "Reaching our goal means providing education about military and veteran families to as many Indiana professionals as we can."
Battlemind is one of the most engaging military and veteran health summits in the state and will be held Oct. 9 in Indianapolis. The summit is hosted by the Military Family Research Institute, in partnership with the Richard L. Roudebush VA Medical Center, Indiana National Guard and the Department of Veterans Affairs.
"Getting the information presented at Battlemind into the communities of each participant is key," said Collette. "We can do this at a higher rate based on the interest level this year."
To be notified about Battlemind to Home Summit 2019 programming and registration, complete this form. You can also find information about Battlemind on social media by following MFRI on Twitter using #battlemindIN, and "liking" MFRI on Facebook.
For questions or inquires contact Collette at flynn14@purdue.edu.