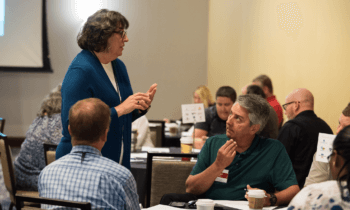 Nearly 300 behavioral health, legal and service providers gathered in Indianapolis Tuesday to increase their knowledge and strengthen community supports for veterans, service members and their families.
Battlemind to Home Summit is one of the most engaging military and veteran health summits in the state. The summit is hosted by the Military Family Research Institute, in partnership with the Richard L. Roudebush VA Medical Center, Indiana National Guard and the Department of Veterans Affairs. Its purpose is to increase community awareness about the challenges and opportunities that are unique to military and veteran families. Ever expanding, this year's featured content addressed legal needs for the first time. It also addressed physical and mental health concerns, and offered information about creating and increasing sense of community for military personnel.
In one breakout session, attendees learned ways to engage veterans as community assets. Another session focused on increasing community awareness about families and caregivers of veterans. Finally, another breakout presented suicide gatekeeper training to help attendees understandi how to "Question, persuade, and refer" an at-risk individual. Judge Dave Certo and the Indiana State Bar Association presented a mock veterans treatment court to educate attendees about diversion court benefits, and Sgt. 1st Class Gregory Stube (Ret.) presented a powerful afternoon keynote detailing his lessons learned from the battlefield.
Next year, Battlemind to Home Summit turns 10, and MFRI looks forward to hosting the summit at Purdue University. The event temporarily leaves Indianapolis to enable more service providers through the state to attend. To be notified about Battlemind to Home Summit 2019 programming and registration, complete this form. You can also find information about Battlemind on social media by following MFRI on Twitter using #battlemindIN, and "liking" MFRI on Facebook.