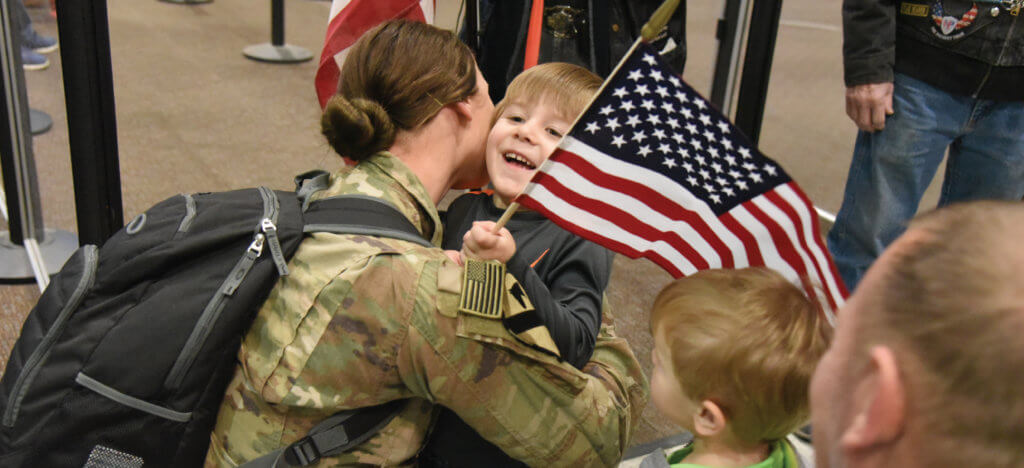 The research team generates new knowledge about military and veteran families. This research helps illuminate practical ways to address the negative impacts and highlight resilience of military and veteran families. Results of our research have been published in a number of academic journals.
Family Journeys: From Deployment to Reintegration
The Family Journeys study is designed to understand how families negotiate and manage changing family roles before, during and after deployment. First, the study looks at patterns of daily communications, roles and responsibilities. Second, the study examines families' dynamics of risk and resilience.  Finally, it follows the transitions and trajectories of roles and relationships over time.
Children of Multiple Deployments
In this study for the Department of Defense, MFRI led a team that assessed the well-being of young children in military families affected by repeated deployments. Possible consequences encompass increased anxiety, emotional distress, peer problems, conduct issues and hyperactivity. We compared the rates of these concerns with civilian children. Finally, we uncovered new information about the ways that deployment presents a significant risk for children.
Family Diversity
Realizing that contemporary military families transcend traditional stereotypes, the Navy asked MFRI to help them learn about the diversity of families currently serving.
Family Diversity Part I looks at the diversity of service members and their families in the U.S. Armed Forces with a special focus on the Navy and Marine Corps. We examine the risk and resilience of diverse families and how they adjust during this time of war. In this context, we report findings from a series of focus groups MFRI conducted with diverse service and family members in the Navy and Marine Corps.
Family Diversity Part II focuses on the particular experiences of service members, and their families, with a wound, illness or injury.  MFRI interviewed military service members, existing service area coordinators and service providers to discover common and particular needs. The researchers existing service programs, both civilian and military, were evaluated for relative fit in meeting those needs.
Sesame Street
Sesame Workshop, the non-profit educational organization behind Sesame Street, created an educational kit to help young children cope with the hardship of seeing a family member deployed to war.  This kit, Talk, Listen, Connect: Deployments, Homecomings, Changes (TLC) includes a DVD featuring popular Sesame Street characters along with printed materials and online resources.  MFRI evaluated the effectiveness of these materials.
TLC I: Deployments addresses the challenges of multiple deployments on the well-being of children and their family.
TLC II: Changes focuses on the trauma of having a parent return from deployment with a wound or injury.
ZERO TO THREE (ZTT)
ZERO TO THREE, a non-profit organization that provides training to nurture healthy early development, created Duty to Care (DTC). This training program meets the needs of very young children affected by deployment. DTC educates childcare, family support, healthcare and mental health professionals regarding the challenges facing military families. MFRI evaluated the curriculum's effectiveness in meeting these needs.
Excellence in Research on Military and Veteran Families Award
MFRI created the Excellence in Research on Military and Veteran Families Award to recognize the single scientific article published that combines exceptional rigor with important insight about military and veteran families. A panel of distinguished reviewers examine all the research on military families published during the year to select the recipient and honorees.
Learn more »