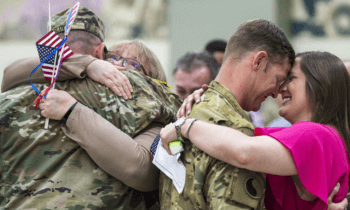 University of South Florida researchers are seeking eligible military spouses or significant others to participate in a study that seeks to understand the experiences of partners who have (or have had) concerns about their service member's post-deployment adjustment.
The research results may inform programs that assist military and veteran families.
Participation in the study involves two steps. First, spouses/significant others will take a 10-minute online survey to make sure they are eligible. The survey will also ask about their relationship history. Second, those interested in participating in a 45-60 minute follow-up video chat interview will be asked to provide contact information for scheduling purposes. The interviewer will inquire about their ideas and experiences as a military spouse or partner.
Those who complete the survey will receive a $5 digital Amazon gift card. Those who elect to participate in the interview will receive an additional $20 Amazon gift card upon its completion.
Only the researchers will see the information provided, except as may be required by law. No military organizations will have access to this data. If a report of this study is published or presented at a professional conference, no identifying information will be used.
In order to be eligible for the research, participants must:
be the spouse/significant other of a military service member or veteran;
have been married or together since before the service member's most recent deployment;
have had one or more conversations with the service member about the challenges of readjusting to civilian life post-deployment; and
be 18 years old or older.
The service member or veteran must have (a) served in the U.S. military, (b) been deployed abroad (outside of the United States), and (c) returned from the most recent overseas deployment within the last two years.
For more information, or to participate in the research, email milfamstudy@usf.edu.