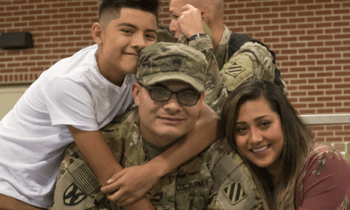 If you are a youth in sixth to 12th grade, the Military Family Research Institute at Purdue University invites you to compete in a logo contest for its latest research study, which focuses on military adolescents. Parental permission is required. You don't have to be a military child to submit a design, and your parent does not need to still be serving.
Best of all, if you are the winner, you and your parent or guardian will receive a trip to Washington, D.C., among other prizes.
The winning logo will be used on materials for Operation Military Experience (Operation ME), a study focused on learning more about adolescents whose parent(s) deployed while they were ages six or younger. 
All logo submissions must be 600 DPI (dots per inch) and include the color purple. Purple represents all branches of the military.
The top four runners up will each receive a $50 Amazon gift card. The winner and one parent or guardian will receive transportation and lodging* for a 4-day, 3-night trip to Washington, D.C. in time for the July 24, 2019 award presentation at the Military Child Education Coalition's National Training Seminar. The winner will also receive a $100 Amazon gift card. The award will be presented July 24 at a distinguished lecture given by MFRI Director Shelley MacDermid Wadsworth, Ph.D.
Submissions are due June 17 at midnight. For details and to submit a design, visit bit.ly/operation_ME
*Renaissance Washington, D.C. Downtown Hotel