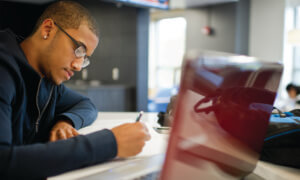 The Military Family Research Institute at Purdue University is seeking an undergraduate communication intern to join their external relations team during the summer of 2018. The purpose of this two- or three-credit hour internship is to assist students in gaining career-building experiences while becoming more informed about military and veteran families.
Internship overview
MFRI student communication interns will:
Perform communication-related job assignments focused on producing content for MFRI's lay publications, website and social media platforms.
Learn about military culture and the unique characteristics of military families through assigned reading materials.
Assist in planning and executing MFRI events.
Upon completion of the internship, students will have been exposed to applicable real-world situations, be able to incorporate knowledge gained from coursework in an employment setting and apply knowledge of military culture in their chosen career path.
Interested? Please send your resume to Sayde Uerkwitz at suerkwit@purdue.edu by April 23.