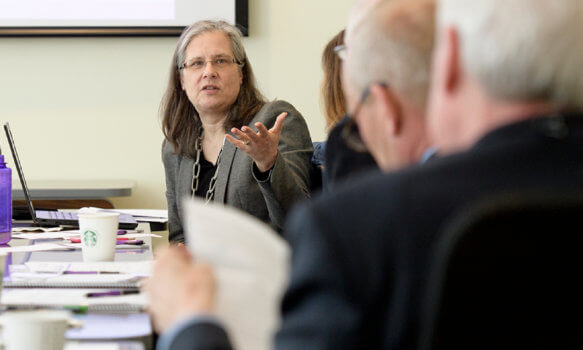 The Military Research Institute (MFRI) at Purdue University's director, Shelley MacDermid Wadsworth, is leading a panel discussion about work and family at the Families in Canada Conference this week, hosted by the Vanier Institute of the Family.
The national, pan-Canadian conference is cohosted by university partners across the country, and has simultaneous satellite events. Individuals and organizations that study, serve and support families are focusing on this year's theme: THINK BIG: How can we use "Big Data" to inform and inspire big ideas to optimize family well-being in Canada?
The conference includes a research lightning round, where presenters share information and insights on innovative research, programs and projects focused on families and family well-being. Fast-paced, engaging and inspiring, this round provides delegates with snapshots of leading and emerging activities and initiatives under way across Canada, along with opportunities to connect and collaborate. Researchers from diverse disciplines, backgrounds and professions can also share new research on topics related to families and family well-being at poster sessions.
About the Vanier Institute of the Family
The Vanier Institute of the Family is a national, independent, charitable organization dedicated to understanding the diversity and complexity of families and the reality of family life in Canada. The Institute offers access to a range of publications, research initiatives, presentations and social media content to enhance the national understanding of how families interact with, have an impact on, and are affected by social, economic, environmental and cultural forces.