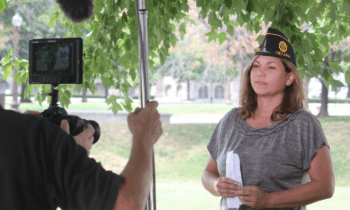 Military Family Research Institute staff, students and the wider Indiana community are mourning the death of former Assistant Director and Air Force veteran Martina Sternberg, Ph.D., who died Sept. 2 in Navarre, Florida.
The 53-year-old veteran dedicated her career to military-connected families, and her passion for making people's lives better is a theme that will live on at MFRI. She was an integral part of building Battlemind to Home Summit into the collaborative success it is today.
"Martina will always be remembered as person with a huge heart and an exuberant spirit," said Shelley MacDermid Wadsworth, director of MFRI. "She was an enormous part of building MFRI's work, and above all was a wonderful and supportive coworker and friend."
Community mobilizer, tireless advocate
Martina was an active member of her community, participating in local programs to assist those in need. She started a Trauma Intervention Program in Florida and the Grandparents Raising Grandkids Association. With a smile that could brighten the room, her enormous personality and wealth of selflessness will be sorely missed by all.
At MFRI, she led community mobilization efforts, expanding them to include work on behalf of student veterans and rural veterans. Her relentless work with homeless veterans helped thousands via fundraisers, benefits, and Stand Downs, which earned her several prestigious awards, including the Distinguished Hoosier Award presented by the Governor of Indiana, and the Veteran of the Year Award. Martina was a prominent gay rights advocate, and as a result, was invited to the White House when President Obama signed the repeal of Don't Ask Don't Tell.
Bright light, 'big influence' and mentor
Phil Turner, MFRI veteran justice outreach specialist, worked with her before being hired at MFRI.
"I remember Martina being an influence in my life and we didn't even know each other that well," he said. "In my small hometown in northeastern Indiana, we were struggling to find resources to help our local veterans. Under Martina's leadership we gained a veteran Stand Down program that still is being used to this day. After joining MFRI, Martina became a mentor. I will always be thankful for her leadership and care for military and veteran families."
Martina was a bright light in this world and touched many lives by broadcasting her radiance. After her time at MFRI, she moved to Florida where she is survived by her husband Scott Sternberg, daughter Jessica Craig, grandson Gabriel Craig and other beloved family members. She was preceded in death by her mother Dolores Henry, her son Joshua Craig and her brother Martin Preston.
Visitation will be Sept. 9 from 1:30-3:30 p.m. at Harper-Morris Memorial Chapel. Funeral services will be Sept. 10 at 10 a.m. at St. Sylvester's Catholic Church.
In lieu of flowers, the family requests that donations be made to Gabriel's Trust Fund.