Overview
2020 Cohort
Testimonials
Supporters
Learn More
Program Overview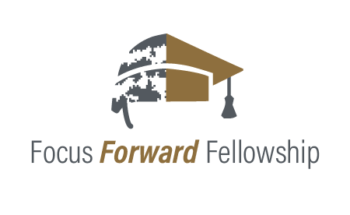 Focus Forward Fellowship is designed to help women student veterans and service members build skills, leadership and a sense of community with their peers.
Through the program, Fellows will:
build a community of support;
access corporate mentors to develop new career skills;
understand individual strengths and how to maximize those strengths;
identify strategies and resources to increase connections and success on campus;
gain confidence in problem solving; and
develop skills to help foster academic and career goals.
Applications for the 2021 cohort are closed. If you have questions, please email focusforwardinfo@purdue.edu.
Details
Fellows are competitively selected from a national group of applicants who:
are U.S. military service members or veterans
are undergraduate students or pursuing a master's degree; and
maintain a 2.5 GPA or better.
Candidates selected to participate will participate in a summer program.
Due to COVID restrictions, the 2020 Fellowship took place as a two-week virtual program. We anticipate the 2021 program will follow a similar schedule with the hopes of uniting the 2021 cohort for an in-person gathering at some point the following year.
Timeline of the virtual summer program:
Week One: Opening reception, most Fellowship faculty-led sessions take place during this week, first small group session and whole-cohort activity, meet your career mentor for the first time
Week Two: Fellowship faculty-led, follow-up sessions, small group meetings and whole-cohort activities take place, meet with your career mentor for the second time, closing reception
After completing the summer residency, Fellows will engage with their cohort in an online community during the academic year.
Supporting the Fellowship
MFRI is grateful for the support of past sponsors. If you are interested in supporting the Fellowship, please contact Alison Seiler, education and employment outreach associate. 
2020 Focus Forward Fellowship Cohort
Jennifer Arrijhi

Arizona State University

Fine Art in Painting
Navy
Jade Austin
Adler University
Clinical Mental Health Counseling and Sport & Human Performance
Army
Laura Belko
University of Maryland
Nonprofit Management
Navy
Jessica Eagles
Chico State University
Human Resource Management
Army
Lani Fox
University of Maryland
Kinesiology
Air Force
Victoria Graham
University of North Carolina
Accounting
Navy
Jazmin Hammett
Arizona State University
Learning Design and Technologies
Air Force
Erica Herrera
University of Wisconsin-Milwaukee
Human Resources Management
Air Force
Charley Hubbard
Arizona State University
Social Work
Navy
Virginia Jones
Park University- Camp Pendleton
Human Resources Management
Marine Corps
Rachel Kozy
University of California- Los Angeles
Masters of Business Administration
Navy
Anna LaPella
Highline Community College
Biology
Army
Shanna LeBlanc
Clemson University
Recreational Therapy
Army
Ashley Lesher
Austin Peay State University
Engineering Technology
Army
Jenifer Meller
Arizona State University
Nutrition
Air Force
Elizabeth Pereda
University of Southern California
Nonprofit Leadership and Management
Marine Corps
Kennia Portillo
Fordham University
Social Work
Marine Corps
Mary Swanson
University of Southern Maine
Psychology
Marine Corps
Amanda Vazquez
Fashion Institute of Design and Merchandising
Fashion Design
Navy
What Fellows are saying
Previous Fellowship Cohorts
Focus Forward Fellowship Supporters
MFRI is grateful for the individuals and organizations who support Focus Forward Fellowship and are committed to women student veterans.
Contact Alison Seiler, education and employment outreach associate, to find out how you can support the Fellowship.
Purdue University partners, including faculty, staff and administration:
External corporations, organizations, agencies and nonprofits:
American Women Veterans
CNO Services, LLC
Colorado State University
Cummins
Department of Veterans Affairs - Center for Women Veterans
Easterseals Crossroads
Eli Lilly and Company
Extended DISC
FedEx
Got Your 6
Indianapolis Indians
IUPUI's Office for Veteran and Military Personnel
NASPA Veterans Knowledge Community
National Association of Veterans' Program Administrators (NAVPA)
National Military Family Association
Pat Tillman Foundation
Phillips 66
Pope & Associates
Sandler Training
Student Veterans of America
Team Red, White, and Blue
Tragedy Assistance Programs for Survivors (Military and Veteran Caregiver Network)
Women in Bloom
West Lafayette Meijer
West Lafayette Walmart
Learn More
If you are interested in sharing information about Focus Forward Fellowship with women student veterans on your campus or would like to receive an email notification, please fill out the fields below.