In September 2015, MFRI convened a broad range of high-ranking individuals to reflect upon, discuss and distill the implications of lessons learned about serving military and veteran families during 15 years of deployments. Participants included top U.S. policymakers, representatives of Congress and Department of Defense leaders. Also present: more than 70 leaders from the corporate world, philanthropy, behavioral health community, higher education, nonprofits, research funders and think tanks.
Insights offered from experienced leaders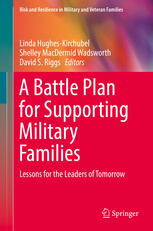 The result of this convening is the newly-published book, "A Battle Plan for Supporting Military Families" (Hughes-Kirchubel, MacDermid Wadsworth & Riggs, 2018). The fourth book in MFRI's "Risk and Resilience in Military and Veteran Families" series, "Battle Plan" offers key insights that focus on how organizations can produce powerful support for military and veteran families during war. Contributors integrated the knowledge they gained during their work with families after 9/11, distilling lessons learned and recommendations into practical, experience-based chapters.
A roadmap for the future
"Battle Plan" acts as a roadmap for support of military and veteran families by addressing how to:
Integrate family support systems into defense strategy.
Anticipate issues and challenges that are likely to affect military families.
Adopt policies that help, not hinder, military families during times of conflict.
Ensure that military families have a voice in the conversation.
Identify urgent gaps in support systems.
Navigate the rapidly changing world of service organizations.
Plan more effectively for medical and caregiving needs.
Provide the resources military and veteran families need after military conflicts wind down.
When service members know that their families are taken care of, they can focus on their military mission. "Battle Plan" provides an action plan for future leaders and organizations committed to supporting these families. The book is available at Springer Books.