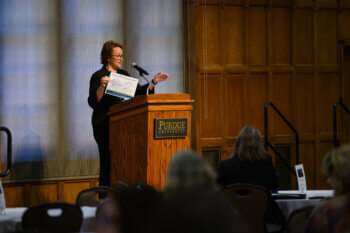 The Military Family Research Institute (MFRI) at Purdue University, part of the College of Health and Human Sciences, pairs research with outreach to help improve the quality of life for service members, veterans and their families. MFRI is seeking an event planning intern to help advance the institute's mission and cultivate its reputation regionally and nationwide.
This position may be structured as either a paid student position of approximately 10 hours a week or an internship with course credit. Depending on candidate availability, the position may begin either summer or fall 2021.
Under the direction of the external relations manager, the event planning position will:
Assist with the planning and execution of conferences, symposia, workshops, trainings and outreach programs
Assist with the cultivation and recognition of donors and other stakeholders
Adhere to Purdue and MFRI brand guidelines on event materials
Complete projects according to deadline
Requirements
Enrolled in a two- or four-year college program in hospitality, marketing, management or related area
Strong analytical and communications skills
Detail oriented
Proficiency with Microsoft Office
Experience with email marketing and online conferencing software is a plus
Application Process
To apply, please submit a resume and statement of interest to Angela Roberts, external relations manager, at akroberts@purdue.edu.
Если вы хотите победить, вам следует выбирать игры, которые требуют определенного уровня навыков и не оставят вас без средств к существованию слишком быстро. Игры с лучшими
pin up казино
шансами для игроков, которые действительно знают, как играть (или с меньшим преимуществом заведения):